What we are:
Apricot Hill is neither a hotel nor a resort but a privately owned farm utilizing extra accommodation primarily on a self-catering basis but with a breakfast option. We do not have a 24 hour reception, room service, liquor license or hot and cold running chambermaids! We provide standard accommodation at an affordable price for the average South African and overseas visitors who don't want to pay the "dollar-based" prices that abound.
What we are not:
Apricot Hill is neither a party nor function venue. Unfortunately, we are not able to host Year End functions, private parties, weddings or very jolly "do's" of any kind.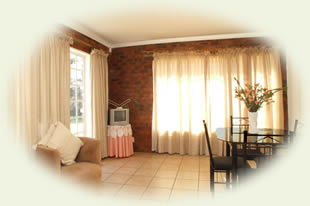 Sunset Cottage
Reception:
Being a private farm, our reception closes at 6pm for check-in. If unavoidable, later arrivals may be arranged on booking.
Accommodation and bookings:
We have a mix of cottages, self catering rustic rooms and farmhouse rooms with private entrance into the garden. Some have baths, others showers. Members of your group may be accommodated in different types of rooms. It is your responsibility to ensure you understand and are content with the type of accommodation you have booked as changes may not be possible later. Payment of your deposit will indicate acceptance of the above.

Regrettably, it is not possible for us to hold provisional bookings for weekends, holidays
and high season.
Your valuables:
Neither Apricot Hill Farm, nor its owners or staff are responsible for loss of or damage to your goods. Please do not leave valuables of whatsoever nature (ie. cellphones, laptops, wallets, jewellery, etc.) in your rooms. Small items may be placed in our safe. Firearms must be on your person or in our safe at all times.
Laundry:
On weekdays we provide a laundry service for small batches only and charge per item. Articles must be handed in the day before and, weather permitting, we will do our best to get them back to you soonest. We are not able to handle delicate or special-treatment items. Laundry is done entirely at your own risk. Alternatively, there are several laundry services in the area.
EISHKOM!:
We are all at the mercy of Eskom these days. Apricot Hill does not have a generator. We do have emergency lights which are available at reception in the event of load-shedding, outages, etc. Please return these before departure. You might want to bring a torch.
Road:
Apricot Hill shares 3kms of gravel road with the 5 Star hotel next door. It is maintained by the local council (if we're lucky!)
Braai's:
Each self-catering unit has its own braai (barbeque). Please remember to bring wood, charcoal and firelighters.
Restaurants and Shops:
There is no shop on the farm and the nearest cash store is approx. 5kms away. The nearest shopping centre is 10kms from us. There are four good restaurants within 5 minutes drive or so, from 5 Star to the local pub. And another dozen or so, within about 15 minutes drive. Pre-booking will probably be wise, particularly on weekends and many are not open on Sunday evenings and Mondays.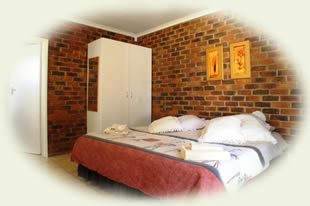 Secret Croft
Equipment:
We provide only a flipchart. All other equipment may be brought by yourselves or can be hired on your behalf. Please ask for a quote before booking.
Teambuilding:
Various teambuilding events are available off-site, including the following:

Paintball; archery; quad biking; go-karting; game drives; horse rides or tractor and trailer rides and sunset bush braai's in the game reserve; cave tours and abseiling; picnics, etc.

Further afield, there are more options such as canopy tours, walking with elephants, etc.

All must be quoted and booked beforehand.
Breakfast:
Breakfast is served in the main farmhouse at 7am, 8am and 9am with a maximum of 16 guests at each time. Please discuss your preferred time or, if necessary, arrange an alternative time with us, on arrival. We take no responsibility for breakfast left curling up on the hot tray!

Our breakfast is a set menu which we vary daily. Any dietary restrictions, allergies or pet hates must be notified on booking.

For larger groups, an informal buffet style breakfast (grab-a-plate-and-sit-where-you-can!) may be arranged on our patio.
Servicing:
Basic servicing (make beds, wash dishes) is provided during the week. On weekends when we only have a skeleton staff, servicing of self catering units can be arranged at R80.00 per unit per day. Please notify us on booking.
Check-in and out times:
Standard check-in time is from 12:30pm
and check-out is 10am.
Conditions of cancellation:
Should you wish to cancel or change your bookings for any reason whatsoever, please be aware that the following conditions of cancellation, alteration or postponement are NON-NEGOTIABLE:

Less than 7 days before arrival: No refund of any monies paid
8-13 days before arrival: 25% refund
14-20 days before arrival: 50% refund
21 days and more before arrival: 75% refund

This applies to all bookings and to all members of your party. All weekend, one night, holiday and high season bookings must be paid in full within 2 working days of booking or they cannot be guaranteed. We will try to fax or SMS you beforehand, but we reserve the right to cancel any bookings not confirmed by the required payment as outlined above.
Maintenance and breakages:
Please notify the owner if there are any maintenance related issues and we will do our best to rectify them immediately or call a contractor. All breakages, loss of keys, etc. will be charged for. Please be so kind as to notify us of these problems. Also, please remember to switch off all electrical items before going out. Eskom will be grateful for this!
Smoking:
We are a NON-SMOKING venue. You are welcome to smoke in the garden. Please ask for an ashtray.
Access:
Our main gate is for check-in only. Thereafter, the guests' gate will be available to you. Please note that our main gate closes AUTOMATICALLY after 30 seconds and no high vehicles (bakkies, busses, 4 x 4's) may enter here as there are low branches over the driveway inside. Please notify us of such vehicles via the intercom BEFORE entry and you will be re-directed to the unobstructed guests' gate.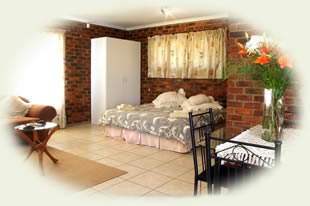 Cradle Cottage
Liquor license:
Apricot Hill does not have a liquor license and does not sell either beverages or ice.
You are welcome to bring your own.
Conferences:
Apricot Hill provides an informal, country venue for mini-conferences, training sessions and less structured meetings. Our venue seats 12 delegates comfortably and can even be s-t-r-e-t-c-h-e-d to 16 delegates, depending on seating. Be aware that this number is possible but not ideal. Larger conferences can be arranged at venues near us.

Our day conference package includes:
Tea with muffins, etc. on arrival
Venue hire with juice, water, mints, flipchart
Tea with biscuits mid-morning
Lunch
Tea with biscuits in pm
Depart late pm

Dinner and overnight single or shared bed and breakfast accommodation is also available.

All meals are set menus and dietary restrictions must be notified on booking and may be charged extra.
Legal stuff:
Right of admission is strictly reserved and payment of your deposit will mean you have read, understood and accepted all our terms and conditions. Whilst every effort is made to ensure your safety and comfort, neither Apricot Hill Farm, nor its owners or staff will be held responsible for any loss or damage of whatsoever nature suffered by yourself, any member of your group or to your possessions during your stay here.